The Belonging Place

Volume 12 - Scroll 7

← Prev
Chapter 115
Next →

Chapter information

Rōmaji

Ibasho

Nihongo

居場所

Pages

18

Corresponding

Story and Art by Rumiko Takahashi
The Belonging Place is the 115th chapter of InuYasha manga.
The true power of Jinenji is revealed.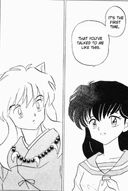 After Jinenji defeats the demon who killed the villagers, Inuyasha asks the people to apologize to him; Jinenji's mother is proud of him. In the morning, Inuyasha and Kagome bid farewell. Before they leave, Jinenji gives her herbs to cure Sango and the villagers who once bullied Jinenji decide to help them repair the farm. Kagome asked Inuyasha if he was bullied during his childhood.
Characters in Order of Appearance
Edit
Ad blocker interference detected!
Wikia is a free-to-use site that makes money from advertising. We have a modified experience for viewers using ad blockers

Wikia is not accessible if you've made further modifications. Remove the custom ad blocker rule(s) and the page will load as expected.