Parting Thoughts

Volume 47 - Scroll

← Prev
Chapter 466
Next →

Chapter information

Rōmaji

Wakare no Omoi

Nihongo

別れの想い

Corresponding

Episode 9 (Final Act)

Story and Art by Rumiko Takahashi
Parting Thoughts is the 466th chapter of InuYasha manga.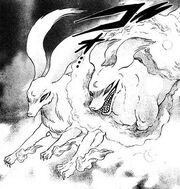 Sesshōmaru
and his group are joined by Kohaku and Sesshōmaru spots a dog demon in the sky who turns out to be his mother.
Characters in Order of Appearance
Edit
Ad blocker interference detected!
Wikia is a free-to-use site that makes money from advertising. We have a modified experience for viewers using ad blockers

Wikia is not accessible if you've made further modifications. Remove the custom ad blocker rule(s) and the page will load as expected.