Naraku's Death

Volume 56 - Scroll

← Prev
Chapter 552
Next →

Chapter information

Rōmaji

Naraku no Shi

Nihongo

奈落の死

Corresponding

Story and Art by Rumiko Takahashi
Naraku's Death is the 552nd chapter of InuYasha manga.
Synopsis
Edit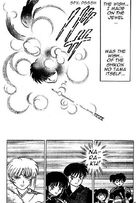 Naraku's spirit was finally purified by Kagome's arrow after realizing that Naraku won't see Kikyō in the heaven.
Naraku's spirit appeared in the bone eater's well before disappearing forever from the material world.
Kagome was suddenly dragged by vortex in front of Inuyasha.
Characters in Order of Appearance
Edit