The Soul of a Demon

Volume 9 - Scroll

← Prev
Chapter 85
Next →

Chapter information

Rōmaji

Inuyasha no Kokoro

Nihongo

犬夜叉の心

Corresponding

Story and Art by Rumiko Takahashi
The Soul of a Demon is the 85th chapter of InuYasha manga.
Kagome is brought to tears to see that Inuyasha is alive because she thought he died when he fell off the cliff.
Meanwhile, a 16 year old demon slayer named Sango slays a stray demon in the forest near a village, and discovers a shard of the Shikon jewel.
Feared that Inuyasha's death Kagome was surprised to him with half-demon form as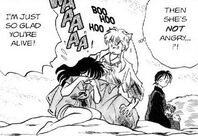 peach man's curse broken which let souls return their bodies. meanwhile a young girl kills a demon and notices a Shikon Jewel shard. After slaying the demon, Sango repeats to herself that seeing a shard reminds her that the jewel originally came from her village.
Characters in Order of Appearance
Edit
Ad blocker interference detected!
Wikia is a free-to-use site that makes money from advertising. We have a modified experience for viewers using ad blockers

Wikia is not accessible if you've made further modifications. Remove the custom ad blocker rule(s) and the page will load as expected.