Coyote yōkai

Nihongo

山犬妖怪

Biographical information

Death

Killed by Sango

Status

Deceased

Physical information

Species

Coyote yōkai

Gender

Female

Eye color

Black

Skin color

Light Brown

Debut

Manga Debut

InuYasha Anime

Voice Actors

Japanese Seiyū

English VA
The Coyote yōkai (山犬妖怪) was a yōkai who possessed a princess' dead body to lure in male villagers so that she could devour them in order to gain youth. She was later killed by Sango when she took Miroku as her last victim.[1]
Physical description
Edit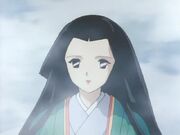 In human form, the demon had long, black hair with short bangs over the head, black eyes with white sclera, red lipstick and wore a teal colored kimono.
In demon form, she had light brown fur while still wearing the kimono and long, gray hair.
Media appearances
Edit
References
Edit
Ad blocker interference detected!
Wikia is a free-to-use site that makes money from advertising. We have a modified experience for viewers using ad blockers

Wikia is not accessible if you've made further modifications. Remove the custom ad blocker rule(s) and the page will load as expected.