A Wicked Smile; Kikyo's Wandering Soul

InuYasha Season 1 - Episode 22

← Prev
Episode 22
Next →

Episode information

Rōmaji

Kikyō no Tamashii Kōhen

Nihongo

桔梗の魂後編

Opening
Ending
Corresponding

73-75

Airdates

Original Airdate

9 April 2001

English Airdate

28 December 2002 (Adult Swim)

Episode Statistics

Format

4:3

Eyecatcher

The Beads of Subjugation

Credits

(no credits available)
A Wicked Smile; Kikyo's Wandering Soul is the twenty-second episode of the InuYasha anime. It first aired in Japan on April 9, 2001.
Inuyasha and the others learn that souls of dead women are being stolen from their bodies.
Kikyō proves to be the culprit, using these dead souls to animate her body.
Kagome finds Kikyō, whom she and the others had believed to be dead.
Kikyō, who survived her encounter with Inuyasha, lives peacefully in a village, but must steal the souls of the dying to maintain her presence in the world, which alarms one of the village girls when a monk named Seikai is killed by the shrine maiden when he tries to save her soul. Meanwhile, Inuyasha, Kagome, and their friends investigate girls losing their souls, which inevitably leads them to Kikyō.
Characters in Order of Appearance
Edit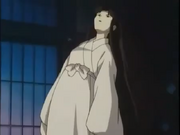 Episodes 21 and 22 originally aired together as a one hour special.
The deceased princess' white kimono's collar was in opposite position rather than "y" shape (if viewed it from the front). According to Sinosphere's culture, once somebody dressed it in opposite collar, it showed that the person had died.
Ad blocker interference detected!
Wikia is a free-to-use site that makes money from advertising. We have a modified experience for viewers using ad blockers

Wikia is not accessible if you've made further modifications. Remove the custom ad blocker rule(s) and the page will load as expected.