The Evil Within Demon's Head Castle

InuYasha Season 4 - Episode 3

← Prev
Episode 85
Next →

Episode information

Rōmaji

Jaki ga Michiru Oni no Kubi-Jō

Nihongo

邪気が満ちる鬼の首城

Opening
Ending
Corresponding

228-229

Airdates

Original Airdate

September 2, 2002

English Airdate

January 24, 2005 (Adult Swim)

Episode Statistics

Format

4:3

Eyecatcher

Inuyasha uses the Tetsusaiga

Credits

(no credits available)
The Evil Within Demon's Head Castle is the eighty-fifth episode of the InuYasha anime.
Inuyasha and his friends meet an old exorcist and she tells them of the curse of the demon's head castle, where the head of a demon was supposedly buried underneath.
They all go to the castle to investigate, and find that the lord has likely been possessed; they learn that a massive demonic aura is surrounding the castle, though the exorcist is unable to sense it.
Many monks and priestesses have tried to exorcise the demon before, but with no success.
The princess of the castle takes Miroku down to where the demon's head had been buried; it is revealed that she is actually the demon, and lured him down there to devour him.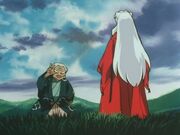 Inuyasha and his friends run into an old woman, Madame Exorcist, fighting a demon and save her. After she introduces herself as a demon exorcist, they decide to join her to fight an oni haunting a nearby village.
Characters in Order of Appearance
Edit
Madame Exorcist may have truly been one in her prime, but it seems her spiritual powers and awareness have left her in her old age.
Ad blocker interference detected!
Wikia is a free-to-use site that makes money from advertising. We have a modified experience for viewers using ad blockers

Wikia is not accessible if you've made further modifications. Remove the custom ad blocker rule(s) and the page will load as expected.