Gyōja

Gyōja

Nihongo

行者

Name meaning

Ascetic

Physical information

Species
Gender

Male

Skills information

Weapons

Goryō Urns

Affiliation

Loyalty

Debut

Manga Debut

InuYasha Anime
The Gyōja (行者, ぎょうじゃ, "Ascetic") are the orphans raised by Goryōmaru trained to be demon hunters after the parents of the children were killed by demons. They killed demons and took their bodies to their master.
Despite how they want to help people by slaying demons, they apparently attack any random demon indiscrimantly, as they killed both innocent and evil. They would even go as far as to attack humans in order to achieve their goal; this was shown when they had threatened to kill Kagome if she stood in their way when their target was Inuyasha.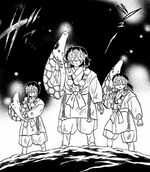 However, despite their irresponsible intentions, it was later revealed that the children were simply undiciplined as their master, Goryōmaru, was against slaying innocent demons.
When Inuyasha and the gang discovered that Gakusanjin was killed by the Gyōja, they decide to investigate the Gyōja. After their master's death, the boys are sent by Inuyasha's crew to a nearby village to be taken care of.