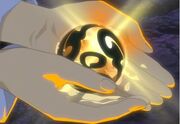 The Jewel of the Dragon's Neck (竜の首の珠, "Ryū no kubi no tama") is a strange metal sphere with an exposed, yellow, glowing core. The jewel was found by Kanna in the basin of a shallow stream, surrounded by large bones, possibly belonging to a dragon. It signifies the element metal and is represented on Kaguya's seal by the color yellow.
The Jewel was cast into Lake Yamanaka with the verse:
Oh arrow of mine with power pure and immense to slay the dragon, do your good deed fast and swift; grasp the crystal in its neck.
わが弓の力は龍あらば、ふと射殺して、首の玉はとりてむ
Waga yumi no chikara wa ryū araba, futo ikoroshite, kubi no tama wa toriten
References
Edit
Ad blocker interference detected!
Wikia is a free-to-use site that makes money from advertising. We have a modified experience for viewers using ad blockers

Wikia is not accessible if you've made further modifications. Remove the custom ad blocker rule(s) and the page will load as expected.