Kōtatsu

Kōtatsu

Nihongo

紅達

Name meaning

Red Master[1]

Biographical information

Death

His Magic ink devoured all of Kōtatsu's blood thus he was destroyed in the process and killed off

Status

Deceased

Occupation

Artist

Physical information

Species
Gender

Male

Eye color

Black (Pinpoint)

Hair color

Black

Skin color

Tanned

Skills information

Abilities

Magic ink manipulation (Temporary)
Magic ink control (Temporary)

Weapons

Debut

Manga Debut

InuYasha Anime

Voice Actors

Japanese Seiyū

English VA

The InuYasha Wiki has 3 related images
Kōtatsu (紅達, "Red Master") was an ink painter who used the Shikon no Tama on his ink that contained his blood.
He fell in love with a princess who ordered her guards to stop beating him. Kōtatsu was then thrown into a river.
The lord sent an army after Kōtatsu, who used his hell paintings to defeat them. Inuyasha killed some of the demons, and the rest were absorbed by Miroku. Kōtatsu summoned and rode a three-headed snake demon, but Inuyasha was able to slice the ink container, which contained the Jewel Shard. Without it, his snake demon was destroyed. Kōtatsu stabbed himself in the arm, telling his ink to take his blood and return to power. Instead the ink devoured his blood, destroying him.
Powers & Abilities
Edit
He could summon a demon brigade using his paint art. This demon painting came alive and was controlled by him. He used these demon paintings to destroy an army.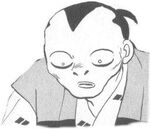 Media appearances
Edit
References
Edit
Ad blocker interference detected!
Wikia is a free-to-use site that makes money from advertising. We have a modified experience for viewers using ad blockers

Wikia is not accessible if you've made further modifications. Remove the custom ad blocker rule(s) and the page will load as expected.