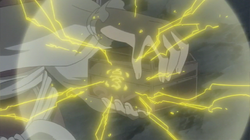 Kanade's comb box is a jeweled comb box which was used by the priestess Kanade to seal the Spheres of Power used by the Four War Gods. It was thrown into the Cauldron of Resonance, though eventually it was removed by Inuyasha, who lost it to the Four War Gods' servant, a replica Kikyō. The replica Kikyō then used her spiritual power to open it and release the spheres.
References
Edit
Ad blocker interference detected!
Wikia is a free-to-use site that makes money from advertising. We have a modified experience for viewers using ad blockers

Wikia is not accessible if you've made further modifications. Remove the custom ad blocker rule(s) and the page will load as expected.