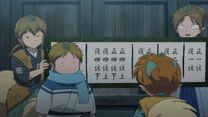 Kitsune (狐, "Fox") is the Japanese word for fox. In Japanese folklore, foxes that have lived for very long lifespans develop above-average human intelligence and supernatural powers. As yōkai they are infamous for being mischievous tricksters. Kitsune can perform fox magic, which includes such abilities as fire conjuring, size manipulation, and, most notably, shapeshifting, which allows them to take on the appearance of anyone or anything they choose by placing a leaf on their heads. However, they are often given away by their tail, which they have difficulty in hiding. Strangely, Shippō, despite being a kitsune, has a distinctly human-like appearance.
Notable kitsunes
Edit
References
Edit
External links
Edit
Ad blocker interference detected!
Wikia is a free-to-use site that makes money from advertising. We have a modified experience for viewers using ad blockers

Wikia is not accessible if you've made further modifications. Remove the custom ad blocker rule(s) and the page will load as expected.