Kodoku

Kodoku

Nihongo

蠱毒

Name meaning

Toxicity

Viz Manga

Kodoku

English TV

Kodoku

Physical information

Species

Affiliation

Loyalty

Debut

Manga Debut

InuYasha Anime

Voice Actors

Japanese Seiyū
Kodoku (蠱毒) is a work of sorcery; it is a magical art which is to close in a vase, venomous insects or lizards to make them kill each other. The only survivor turns into a creature called kodoku. Naraku uses this sorcery with demons imprisoned in a cave. The survivor absorbs all the other demons, and then in turn be absorbed by Naraku, who needed a new body, as the former had been severely damaged by Kagome to the castle.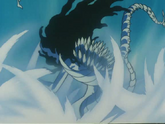 Inuyasha present in the cave, fights with the demon survived in danger of becoming the kodoku him, but luckily, Kikyō too present there, destroys the seal, saving Inuyasha, but allowing Naraku to get his new body. Miroku is the first to discover that the battle of the demons in the cave was a sorcery to create the kodoku.
Ad blocker interference detected!
Wikia is a free-to-use site that makes money from advertising. We have a modified experience for viewers using ad blockers

Wikia is not accessible if you've made further modifications. Remove the custom ad blocker rule(s) and the page will load as expected.