Master

Oshō-sama

Nihongo

和尚さま

Name meaning

Master (Monk of a temple)

Biographical information

Death

Killed by Inuyasha

Status

Deceased

Occupation

Monk (Disguised as a human)

Physical information

Species
Gender

Male

Skin color

White

Debut

Manga Debut

InuYasha Anime

Voice Actors

Japanese Seiyū

English VA
The Master (和尚さま, "Oshō-sama"), also known as Nazuna's Master, was a Kumogashira (蜘蛛頭, "Spider Demon Head") in disguise who murdered Nazuna's father.
He disguised himself as an old buddhist monk, and raised Nazuna without her knowing that he was the one who killed her father. He awaited Inuyasha's group at the temple where he and Nazuna lived so that he could steal the Shikon Jewel Shards they had collected.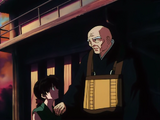 After a big commotion about Inuyasha changing into a human, and then changing back, Inuyasha defeated the master in his spider yōkai form. Also, after Inuyasha defeated him, the Shikon Jewel Shards he had collected were fused together into a larger fragment of the original Shikon Jewel.
Media appearances
Edit