Miroku and Sango's daughters

Miroku to Sango no musume

Nihongo

弥勒と珊瑚の娘

Biographical information

Age

2-3

Status

Alive

Physical information

Species
Gender

Female

Eye color

Brown

Hair color

Dark Brown

Family

Debut

Manga Debut

Final Act Anime

Voice Actors

English VA

The InuYasha Wiki has 7 related images
Miroku and Sango's daughters were their first children, as well as their first (and presumably) only daughters.
Personalities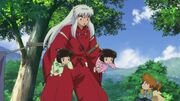 The two twins treated Inuyasha just as Kagome did when she first met him, calling him a doggy and petting his ears. As usual, Inuyasha was annoyed by this, as he did not like his ears being touched by anyone. They acted like most toddlers would, seeing as how they were curious and still so young.
Physical descriptions

In the anime, the girls bore a resemblance to their mother, as they both had dark brown hair. This may hint that they are identical instead of fraternal. One wore green, the other pink, and both had rose-colored sashes. The child in green seemed to have her hair in small pigtails, the visible one tied up by a white ribbon.
Trivia
None of the children's names are revealed, nor are they known.
The twins are two of the final new characters introduced in the entire series.
Media appearances
Notes