Nazuna

Nazuna

Nihongo

なずな

Name meaning

Shepherd's Purse

Viz Manga

Nazuna

English TV

Nazuna

Biographical information

Status

Alive

Physical information

Species
Gender

Female

Eye color

Black

Hair color

Black

Skin color

Pale

Family

Mother (Deceased)
Father (Deceased)

Affiliation

Loyalty

Her master (Formerly)

Debut

Manga Debut

InuYasha Anime

Voice Actors

Japanese Seiyū

English VA

The InuYasha Wiki has 3 related images
Nazuna (なずな, "Shepherd's Purse") was a young orphan girl who met Inuyasha and Kagome on their search for shards of the Shikon no Tama.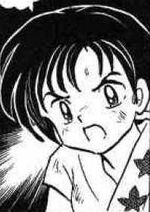 Nazuna was introduced being chased by demons, causing her to fall from a high cliff. Nazuna was saved by Inuyasha and was very grateful until she realized he was a half-demon. She headed back to the temple she called home, where she was cared for by a monk, the "Master", after her parents were killed. Spider demons (kumogashira) had decimated many villages, and her parents were just another unfortunate victim of their attacks.

It was later revealed that the monk was, in fact, a spider demon in disguise, and that he was responsible for the death of Nazuna's parents. Inuyasha arrived in time to save her life, and Nazuna learned that not all demons are bad.
Nazuna's seiyū, Fumiko Orikasa, also voiced three other characters in the anime series InuYasha: Enju, Sara Asano and Hitomiko.
Media appearances
Edit