O-Yakata

Nihongo

北城の殿様

Biographical information

Death

Beheaded by Bankotsu

Status

Deceased

Occupation

Physical information

Species
Gender

Male

Affiliation

Loyalty

Debut

Manga Debut

InuYasha Anime

Voice Actors

Japanese Seiyū

English VA
O-Yakata (北城の殿様) was the lord of the castle which was responsible for the execution of the Shichinintai prior to their resurrection by Naraku. The lord of the castle kept Bankotsu's halberd, Banryū, as a trophy of his victory over the mercenary squad. When the band of seven returned to take revenge on him and his castle, Bankotsu came to take back his weapon. After Bankotsu kills his guards and picks up Banryū, O-Yakata remarks that it took three strong men to carry the halberd in, but Bankotsu could lift the weapon with one arm.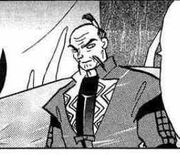 Frightened of being killed, the lord asks Bankotsu if he will recommence serving him as a mercenary, regardless of the fact that he's a spector. Bankotsu declines the offer with a sigh and cuts off the lord's head, getting his revenge for his being beheaded fifteen years ago.
Ad blocker interference detected!
Wikia is a free-to-use site that makes money from advertising. We have a modified experience for viewers using ad blockers

Wikia is not accessible if you've made further modifications. Remove the custom ad blocker rule(s) and the page will load as expected.