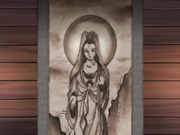 Painting of Kannon (観音の掛け軸, "Kannon no kakejiku") is a powerful scroll in which the monks sealed the Salamander and put it into a state of dormancy. It has an image of the goddess Kannon. Years later, Naraku's miasma suddenly frees the Salamander, who lures widows and makes them slaves.
Ad blocker interference detected!
Wikia is a free-to-use site that makes money from advertising. We have a modified experience for viewers using ad blockers

Wikia is not accessible if you've made further modifications. Remove the custom ad blocker rule(s) and the page will load as expected.