Rin's hut

Location information

Location
Status

Abandoned

Owner
Rin's hut was a poor shanty built at the edge of a village, on the side of an embankment.[1] After her parents and siblings were killed, she was raised by a small village's community. She lived in this hut on the edge of the village likely to have her own space and stay out of their way, for she was often mistreated by those villagers.[1]
Media appearances
Edit
Manga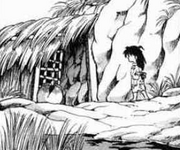 Anime
References
Edit
Ad blocker interference detected!
Wikia is a free-to-use site that makes money from advertising. We have a modified experience for viewers using ad blockers

Wikia is not accessible if you've made further modifications. Remove the custom ad blocker rule(s) and the page will load as expected.