Shōga

Shōga

Nihongo

生姜

Name meaning

Ginger

English TV

Shouga

Biographical information

Birth

Unknown

Age

Unknown

Status

Alive

Physical information

Species

Flea Yōkai

Gender

Female

Height

0,7 cm

Eye color

Black (Pinpoint)

Hair color

Grey

Family

Affiliation

Team
Loyalty

Debut

InuYasha Anime

Voice Actors

Japanese Seiyū

English VA

The InuYasha Wiki has 2 related images
Shōga (生姜, しょうが, "Ginger") is the old female flea betrothed to Myōga by their parents. Apparently, Shōga chases her unwilling fiancé across Japan, determined to put an end to his womanizing ways and force the marriage herself.
Shōga, unlike Myōga, is able to possess both yōkai and humans, forcing them to act in any way she sees fit. Myōga himself can control birds and other small animal, but only to an extent.
Shōga possessed Sango first, then Miroku, intent on using them to catch Myōga. When Sango attacked Miroku, at first they believed she was sleepwalking, but then realized she was possessed. The group believe it is the influence of a monster centipede, who they slew earlier.
When Inuyasha was possessed, Shōga went after Shippō, on whom Myōga hid. At first Inuyasha started laughing maniacally, then he began hopping like a flea, and then called Myōga's name.
After catching him, Kagome "sat" Inuyasha, bringing him back to his senses. They heard Shōga out, and decide to punish Myōga for his silence by agreeing to force him to a traditional Shintō marriage ceremony.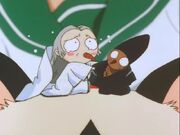 When the wedding came around, however, they were all sorely disappointed. Leaving a common flea in his place, Myōga escaped. Hot on his trail, Shōga began her hunt all over again.[1]
Powers & Abilities
Edit
Possession: Shōga displays the ability to possess others, she appears to be able to possess demons, humans and half-demons alike. Shōga gains complete control over the being she possesses, controlling both their body and their speech.[1]
Shōga bares a resemblance to Cologne from Rumiko Takahashi's previous series Ranma ½. Both of whom were voiced by Miyoko Asō in the Japanese version of the anime series.
References
Edit