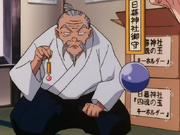 The Shikon no Tama keychain (四魂の玉キーホルダー) were items sold at the Higurashi shrine. Kagome's grandfather hands her one and starts talking about the Shikon no Tama, but when he looks up, Kagome is using the keychain to play with Buyo, their cat. As a plastic replica it has no power, whatsoever, of the real Shikon no Tama. While the Shikon no Tama keychain is roughly the same size as the real Shikon no Tama, as well as having the same shape, none of the keychains were seen to have the same color as the real Shikon no Tama.
References
Edit
Ad blocker interference detected!
Wikia is a free-to-use site that makes money from advertising. We have a modified experience for viewers using ad blockers

Wikia is not accessible if you've made further modifications. Remove the custom ad blocker rule(s) and the page will load as expected.