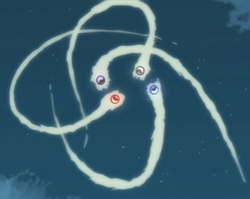 The Spheres of Power were small, colored spheres that were the cores of the Shitōshin, the source of their existence and power. When their Spheres were removed and sealed by a priestess named Kanade on Hōraijima into a small comb box and hidden inside the Cauldron of Resonance, the Shitōshin were forced to remain on Hōraijima while sacrificing the island's half-demons into the Cauldron to sustain themselves. However, the comb box is removed from the Cauldron of Resonance with the spheres returned to their owners. Enduring after the Shitōshin were destroyed by Sesshōmaru, Sango and Inuyasha, the Spheres gathered and recreated the Shitōshin in their combined form. Once the combined Shitōshin was destroyed for good by Inuyasha's Adamant Backlash Wave however, the Spheres were destroyed as well.
Ad blocker interference detected!
Wikia is a free-to-use site that makes money from advertising. We have a modified experience for viewers using ad blockers

Wikia is not accessible if you've made further modifications. Remove the custom ad blocker rule(s) and the page will load as expected.