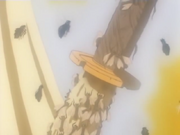 A Steel wasp (鋼バチ, "Hagane bachi") is a yōkai that is able to fix Tessaiga's sheath, through the use of their wax. The Steel wasps repaired Tessaiga's sheath after it was damaged in Inuyasha's battle with the Thunder Brothers. According to Myōga, their stingers are powerful enough to kill Inuyasha.
References
Edit
Ad blocker interference detected!
Wikia is a free-to-use site that makes money from advertising. We have a modified experience for viewers using ad blockers

Wikia is not accessible if you've made further modifications. Remove the custom ad blocker rule(s) and the page will load as expected.