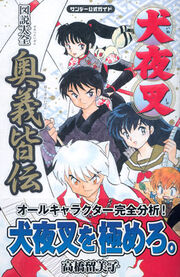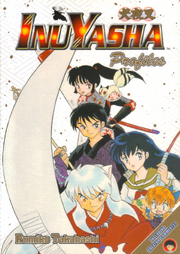 InuYasha: Zusetsutaizan Ōgikaiden (犬夜叉図説大全奥義皆伝, "InuYasha: A Complete Diagram Upanishads Biographies"), or renamed as InuYasha Profiles by Viz Media, is a specialist-published book that was published on 15 April, 2003 in Shōnen Sunday, and March 18, 2003 by Shogakukan. The book is mostly related to various profiles of the InuYasha characters, including the Ichirei Shikon Theory (一霊四魂, "theory of four souls") section[1], the ōgi of Rumiko Takahashi and some captions for manga pages.
After the original version InuYasha Profiles was published and sold, other companies, especially from Taiwan, also released the same version in the official language, mainly using Traditional Chinese. Its title, "犬夜叉圖解大全:奧義皆傳" has only slight changes from the original book.
References
Edit
↑ Zusetsutaizan Ōgikaiden, page 20.
Ad blocker interference detected!
Wikia is a free-to-use site that makes money from advertising. We have a modified experience for viewers using ad blockers

Wikia is not accessible if you've made further modifications. Remove the custom ad blocker rule(s) and the page will load as expected.